Are you thinking about converting your loft? A loft conversion is a great way to make productive use of space enabling you to benefit from a larger property without the hassle or expense of moving home. Keep reading this blog post!
How can I benefit from a loft conversion?
No need to Relocate to Gain Additional Space
With the rise in property prices and a growing population, loft conversions are becoming a cost-effective way for those who have found a home in a perfect location (close to schools and other amenities) but are lacking space. A loft conversion can typically add an additional room to a property, taking that 3 bedrooms to a 4 bedroom property. This also includes an additional bathroom and storage space. Loft conversions can help save the expense of moving in order to gain additional space and also reduce the stress you may be going through.

Allows Freedom to Choose Use of Extra Space
Although both an extension and conservatory bring the advantage of additional living space to a home, they do take considerably more time and planning. The options in terms of room type are often limited to an extra living room or dining room when it comes to conservatories, along with an extension that requires approved planning permission. Loft conversions, on the other hand, are quick and easy to transform, making the addition of extra living space a straightforward task. It also means that you are using dead space to your advantage without having to compromise property land that you will miss when built over.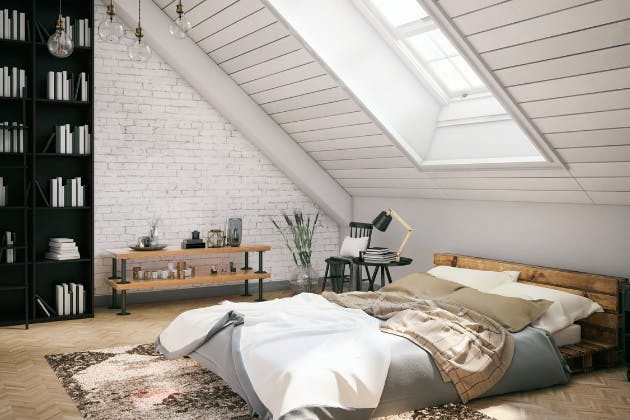 Various Styles Available
The main types of loft conversions available across the UK include:
1. Dormer conversion – renovates the current space and adds a slight extension making a sloped room more vertical enabling extra headroom, floor space and light.
2. Velux conversion– creates the appearance of larger space by adding Velux windows to the roof – this method works well for lofts that have greater height.
3. Hip to Gable conversion – the sloped side of the roof is extended and replaced with a vertical wall which increases overall internal area from a Dormer conversion.
With many types of conversion styles available, you can create your new loft personalised to meet your needs and requirements. Once your conversion is complete there are no limits as to how you use the space and the timescale for the conversion is often much faster than the building of a conservatory or an extension.

Adds Value to your home
if you decide to sell your home, it is estimated that a loft conversion can help increase the value of your home by up to 20%, making it a worthwhile investment. Learn more about the advantages that come along with loft conversions by speaking with a member of our team today!

Need a loft conversion in Berkshire?
Our friendly and reliable builders offer loft conversion services across Maidenhead, Windsor, Ascot and the surrounding areas. If you would like to know more information on how we can help, please get in touch by calling 01753 585 319, 07834 617 743, 01507 838 017 (Lincolnshire office number).
You can also email us at substructure1@sky.com or you can use the contact form and get a free quote on our loft conversion services.