Exterior Refurbishments
Offering a range of exterior refurbishment services across Maidenhead, Windsor, Ascot, Lincolnshire and the surrounding areas.
From extensions to landscaping, here at Substructure Developments Ltd, we can help you make the most out of your exterior space and bring out the most value of your home. If you would like to know more about our professional exterior design and build services, get in touch by calling us on 01753 585 319, 07834 617 743 or 01507 838017 (Lincolnshire office number).
Exterior Refurbishments Services
No matter how big or small the size of the refurbishment or renovation, we are on hand to assist you throughout the entire project. From adding an extra office or a simple space to relax in, our builders are on hand to assist you with any home extensions and exterior refurbishment services that you may require. Our exterior renovations services include:
Artificial grass installations
Make sure your lawn is looking great all year round by installing artificial grass. Not only does it save you time on mowing and weeding but also on your money. No matter what shape or size, we can help install artificial grass for both domestic and commercial spaces.
Design and lighting
Enhance and make your garden look more attractive during the night by adding lighting. We will be happy to through the designing stages with you so you can have it exactly how you would like it to be.
Decking
From softwood, hardwood or composite decking, we can help you install all types of decking in your home.
Patios
Transform your garden by letting us help you install a patio. If you are not sure which type of patio you would like to go for, get in touch with us by viewing our contact details down below and we will be happy to help.
Fencing
There is a range of fences that you can install in your home, make sure to go for a fence that is both functional and attractive.
Gates
Whether you need sliding or automatic gates, we are on hand to help you fit it!
Garden rooms
Let us here at Substructure Developments Ltd help you build a bespoke garden room to suit your needs!
and more! Find out more about our bespoke services by visiting our services page.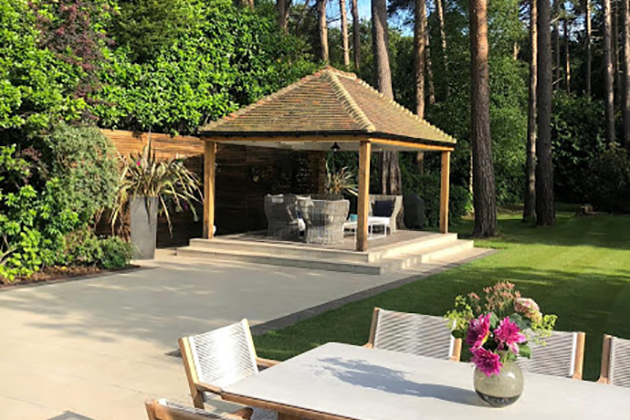 Why choose Substructure Developments Ltd?
Our builders are highly experienced and knowledgeable when it comes to offering exterior refurbishment projects. They are on hand to guide you through the entire project from start to finish. Our builders will be happy to give their professional advice, including helping you, from designing your new extensions, patios, or fencing to building it for you. Browse through our previous work by heading over to our gallery page.
Here at Substructure Building Developments Ltd, we will also ensure that all projects are completed on time and meet your standards. We will also keep you up to date with any progress made with your new exterior refurbishment project. This is of utmost importance to us because want to ensure that you are constantly being updated with the progress of your new project. This is highly appreciated by our customers across Maidenhead and the surrounding areas. You can read through the reviews left by our customers by visiting our reviews page.
If you would like to know more about us our services, simply get in touch by viewing our contact details down below.
Find out more
To get in touch with our builders across Maidenhead, Windsor or Ascot, simply call us on 01753 585 319, 07834 617 743, or 01507 838017. For enquiries regarding our exterior refurbishment services, you can also send us an email at substructure1@sky.com or you can use the contact form over on our contact page to send us a message and we will get back to you as soon as we can.