Expert Builders throughout Maidenhead
Offering loft conversion services throughout Maidenhead and the surrounding areas.
If you are thinking about getting a loft conversion in your Maidenhead home, consider hiring the local, reputable and trusted builders at Substructure Developments Ltd.

Substructure Developments Ltd is a reputable building contractor offering unmatched building services to our local area in Maidenhead. Our attitude, work ethic and attention to detail make us a great choice to carry out your loft conversion project in your home. You will also be glad to know that we offer free indications for our loft conversion services for full transparency.
To enquire about our professional loft conversion service in Maidenhead, call Substructure Developments Ltd day on 01753 585 319 or get in touch with us on our contact page linked below.
Considering a loft conversion in Maidenhead?
A loft conversion is a fantastic way to increase the space in your home and when opting for Substructure Developments Ltd's service, it can be a surprisingly affordable project. By gaining additional space in your home you open up the possibilities of what is possible to achieve in your property. Along with this, a loft conversion is a fantastic way to increase the value of your home on the market and is usually a highly successful investment.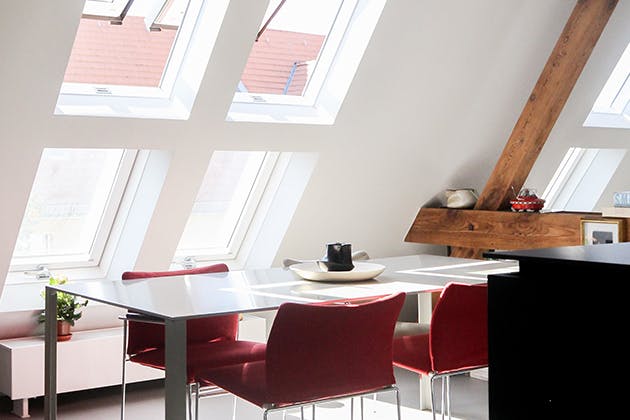 Benefits of Loft Conversions
A loft is often used for storage for many homeowners, from storing furniture, old books to unwanted products. However, when your loft is converted, it could create a beautiful space for you to use. It also comes along with a lot of advantages, these include...
Increase living space
This is ideal if you have a growing family as it offers a cheaper alternative to moving homes. Also, if you are currently working from home, it could create an office space, helping keep your work and home life separate.
Increases property value
Not only does a loft conversion add extra space, it also increases the price of your property if you wanted to sell your home. Potential buyers look at extra features that come along with a home that could benefit them.
Quick and easy process
Even though a loft conversion is a big project to take on, it is an easy process that causes very little disruption to your day to day living. Our builders throughout Maidenhead are fully flexible and are happy to carry out the renovations around your schedule.
If you would like to know about the advantages that come along with a loft conversion, speak to our highly experienced and knowledgeable builders by viewing our contact details down below.
Expert loft conversion service in Maidenhead
Substructure Developments Ltd approaches each new loft conversion project with a view to finding out our customer's vision for their home. Our professional builders in Maidenhead, work closely with our clients to determine what the customer would like to achieve in their loft conversion project.
After working closely with our clients, our professional builders begin to plan our project. Our ethos is to cause minimal disruptions to your day-to-day life whilst we carry out work on your home. This includes liaising with our customers to fit around their lifestyles and needs.
Once the planning stage is complete, our professional building contractors begin work on the project, using the best quality materials and practices to produce a structurally sound finish to your loft conversion - meeting all current legislation and building regulations. We ensure that we deliver a perfect finish to your room ready for you to enjoy, use and live in.
Enquire about Substructure Developments Ltd loft conversion service in Maidenhead
To book our expert service and to receive a free indication, call Substructure Developments Ltd on 01753 585 319. To write to one of our friendly team members please use our contact page. Alternatively, send us an email at info@substructure-developments.co.uk with details of your enquiry and one of our friendly team will be back in touch.